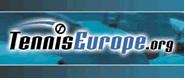 Tennis Europe
Homepage: http://www.tenniseurope.org/
Rules and regulations: http://www.tenniseurope.org/
PDF/Constitution.pdf
History:
In December 14, 1973, the Swedish Tennis Association organized a meeting in Germany, participated in 22 representatives from 11 European countries to discuss the harmonization of all tennis activities across Europe. The participants then acknowledged the need to strengthen cooperation among national tennis organizations in Europe and agreed to set up a European Working Group. The group was tasked to tackle challenges relating to the development and organization of tennis in Europe, covering every aspect of the game, from juniors, ladies, veterans, calendars, and training activities, among others. As tasks facing the working group grew, the concept of putting up a European Tennis Association cropped up. The working group immediately started ground work for the establishment of such organization, by coming up with draft by-laws, proposed office locations, budget, and appointing a General Secretary, among others. Thus, in May 31, 1975 in Rome, the European Tennis Association was established. A little over than a year after its foundation, ITF recognized the European Tennis Association as a regional governing body.
Today, the association is known as Tennis Europe, and is composed of 58 member nations. Tennis Europe mainly serves a facilitator between its affiliated member nations and the ITF. It also oversees all aspects of tennis in Europe and organizes tournaments.