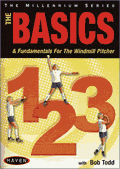 Here is the highest rated fast pitch softball pitching video aid you will find. If you are looking for the best softball pitching drills, tips, coaching insight and instruction on technique and mechanics, you need look no further.
Whether you are a fast pitch softball coach or pitcher, you realize how important pitching fundamentals are to your success.If you are looking to improve your personal or team's performance, you must have strong softball pitching mechanics. Pitchers who have the fundamentals down, perform better one game to the next and most notably when under pressure. If you want to consistently win, and perform at your peak when the chips are down, you must be a strong pitcher fundamentally. The video (DVD) "Basics 1-2-3: The Basics & Fundamentals for the Windmill Pitcher" teaches you how to learn and coach the important basics of softball pitching. Starting with the grip and continuing all the way through to the stride and follow-through you will learn the common components to all the great pitches.
Any good softball pitching aid will include drills and tips that make pitching instruction fun. This video brings that to you as well. Practical fun softball pitching drills help the student feel the correct mechanics while learning the repetition that will help you achieve muscle memory. If you crave positive results and statistics, this videos systematic approach is for you.
Who is Coach Bob Todd in the video? He is a 16-year Hall of Fame pitching coach. He is sought after throughout the US and Internationally at all levels of play. His experience and winning record is incredible with more than 96% of his students going on to play at the collegiate level.
Reviews from Amazon.com:
This highly accessible DVD gave us what we needed to help our daughter improve her pitching mechanics. Each aspect of windmill pitching is broken down, explained and demonstrated. Coach Todd talks to his pitchers about what they are doing right and wrong–and how to improve everything from gripping the ball, to arm motion, to footwork and follow through. Our daughter's mechanics have improved 100%. She uses the lessons in this video to judge and correct her own motion.
I highly recommend this video to beginning pitchers, parents, and to coaches as a way of mastering the basics of windmill pitching.
Editorial Review from Amazon.com
For the past 16 years Hall of Fame pitching coach Bob Todd has successfully developed young girls for success at the highest levels and is continually sought after for clinics throughout the U.S. Internationally, he has worked with pitchers and in clinics throughout the world including New Zealand , Spain and the mainland of China .
More impressive than his experience and winning record is his success rate with more than 96% of his students going on to play at the collegiate level.
In this easy to follow video Coach Todd teaches the beginning and intermediate athlete the first steps in learning a sound foundation for the windmill pitch. Lots of fun drills illustrate the proper execution of all the common denominators of pitching: the grip, the stance, the stride and the follow-through.
Click here to get the best softball pitching video including aids, drills, tips, techniques, mechanics and coaching instruction at Amazon.com