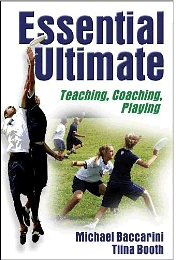 Ultimate disc is the ideal sport for those people who want a game that requires few materials. This game easily accommodates players of various skill levels from beginners to professionals.
Michael Baccarini and Tiina Booth have written the ultimate manual on Ultimate Disc. Relying on their more than 50 years of combined experience, the authors have put together "Essential Ultimate: Teaching, Coaching, Playing." It truly has something for players of every level of expertise, as it outlines the basics of the game for beginners while also including a wide range of different techniques that are ideal for those more advanced players who want to fine tune their game.
Areas of particular note in this book include:
How to Play Ultimate Disc: Beginning with a look at the history of this relatively new and popular sport, the authors move on to breaking down the various throwing and catching techniques. Offensive and defensive strategies are fully covered in their own sections.
How to Coach Ultimate Disc: While this book contains a wealth of information that is designed to get players started with the game, as well as learn and refine new techniques, Baccarini and Booth have also used their experiences as coaches for teams that have won five championship titles at the national level and two world championship titles to offer timely tips that coaches can implement to address particular issues now. These techniques also allow coaches to deepen their understanding of the issues behind a player's actions.
Skills for Ultimate Disc: Baccarini and Booth readily admit that players of all skill levels can, and do, enjoy this massively popular sport. In order to advance to higher levels, however, the skills of the player must be refined and mastered. New throwing and catching techniques are fully explained with an ample number of photographs that allow for easy visualization.
Offense for Ultimate Disc: A range of catching and throwing skills are outlined. A solid playing foundation is built on these offensive moves that will help players score and reach the next level of success in their play.
Defense for Ultimate Disc: Although there are teams in Ultimate Disc, it can also be played on a more individual level. This is one aspect of playing defense that is covered in this excellent handbook. By working together, the defense can successfully use the techniques to include the best of each player's abilities in order to stymie the other team.
Both entertaining and highly useful, "Essential Ultimate: Teaching, Coaching, Playing," is written in a style that is easy to read and understand. While not overly technical in prose, it still offers plenty of techniques and tips that more experienced players will find noteworthy. Lots of relevant pictures demonstrate a number of different aspects of the game on a further level.
If players, coaches and teachers only purchase one book that encompasses all that is Ultimate Disc, make it this one. Baccarini and Booth have proven they have the knowledge and skills to take the sport to the championship level.
The books table of contents includes:
Section 1 – What is Ultimate

History of the Sport
Basics of the Game
Easy to Play
Inexpensive Equipment
Emphasis on Personal Responsibility
Ultimate Meets Physical Education Standards
Summary

Section 2 – Principles of Throwing

Parts of the Disc
Basic Throwing Concepts
The Backhand
The Forehand
The Hammer
Switching Grips
Throwing in the Wind
Summary

Section 3 – Principles of Catching

Basic Catching Concepts
The Clap Catch
Two Handed
Rim Catch
Catching One Handed
Jumping for the Disc
Layout Catch
Common Catching Errors
Summary

Section 4 – Offense: Individual Skills

Throwing
Choosing a Receiver
Pivoting and Faking
Throwing to Space
Breaking the Mark
Cutting
Cutting Techniques
Timing Your Cuts
Clearing
Baiting
Summary

Section 5 – Offense: Team Skills

Stack Offense
Other Offensive Sets
End-Zone Offense
Transition: Offense to Defense
Zone Offense
Summary

Section 6 – Defense: Individual Skills

Mental Approach
Marking the Thrower
Covering the Cutter
Summary

Section 7 – Defense: Team Skills

Communication
Individual Coverage
Zone Defense
The Clam
Defensive Options
Summary

Section 8 – Ultimate Fitness

Overall Movement Portfolio
Warming Up and Cooling Down
Flexibility Training
Training for Speed, Agility and Quickness
Function Strength Training
Summary

Section 9 – Physiological Preparation for Competitive Performance

Practice
Game Performance
Summary

Section 10 -Starting a Program

Types of Teams
Obtaining Administrative Support
Recruiting Players
Forming a Team
Summary