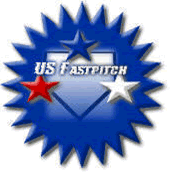 United States Fastpitch Association (USFA)
Homepage: www.usfastpitch.com/
Rules and regulations: http://www.usfastpitch.com/rules.htm
Overview:
Among others, the United States Fastpitch Association (USFA) has been working on crafting the best possible rulebook strictly for fastpitch. Indeed a legacy worth striving for, USFA envisions this rulebook to provide coaches with whatever game options they want. To accomplish this, USFA has gathered inputs from various coaches, travel teams, and recreation teams nationwide to come up with a streamlined fastpitch rulebook.
USFA recently organized a successful 2004 World Series, participated in by over 200 teams. USFA is also building up a comprehensive mailing list of college coaches to keep them regularly updated on USFA tournaments. With more college coaches watching USFA tournaments, USFA aims to provide its players with greater exposure and opportunities to be considered for scholarships.