More Recent Days
You might be interested in recent cricket world cup results, and most successful teams in cricket. The Australians are definitely worth mentioning first, since they were crowned cricket World cup winners four times: in the 1987 edition which took place in India and Pakistan, in the 1999 edition taking place in England, in the 2003 world cup which was hosted by South Africa, Zimbabwe and Kenya, and finally in the 2007 edition hosted in the West Indies.
Other successful nations include India, crowned world cup champions twice (in 1983 and, recently, in 2011), the West Indies who also won two titles in 1975 and 1979, and finally Pakistan who has won the world cup once in 1992. Pakistan however has been successful in a number of other tournaments like the World Twenty20 and the Austral-Asia Cup (three time winners in 1986, 1990 and 1994).
Cricket Mens World Cup Championships
| Year | Country | Man of The Match |
| --- | --- | --- |
| 1975 | West Indies | Cive Lloyd |
| 1979 | West Indies | Viv Richards |
| 1983 | India | Mohinder Amarnath |
| 1987 | Australia | David Boon |
| 1992 | Pakistan | Wasim Akram |
| 1996 | Sri Lanka | Aravinda de Sliva |
| 1999 | Australia | Shane Warne |
| 2003 | Australia | Ricky Ponting |
| 2007 | Australia | Adam Gilchrist |
| 2011 | India | Mahendra Singh Dhoni |
|  2015 |  Australia |  James Faulkner |
Women's Cricket World Cup Team Winners
| Year | Country |
| --- | --- |
| 1973 | England |
| 1978 | Australia |
| 1982 | Australia |
| 1988 | Australia |
| 1993 | England |
| 1997 | Australia |
| 2000 | New Zealand |
| 2005 | Australia |
| 2009 | England |
| 2013 | Australia |
History is Great, But I want to Play!
Then you'll need to bear with us for a moment, since the rules can be quite complicated if you are unfamiliar with the sport. We don't hope to include everything in this article, but we'll stick to the basics to you can understand.
Cricket is played by two teams totalling 22 players in all, in which there is a captain, a batsman and a runner. Like in any sport every role is important, there's no "I" in team after all. The action takes place on a strip, where the batsman needs to stop the ball, thrown by a bowler (of the opposing team), hitting any of the three stumps on the ground (called wickets).
Somewhat similar to baseball, a batsman can be dismissed either by hitting wickets, if he hits the ball with anything other than his bat and a few other ways. A team can score with runs, which is when the batsman hits the ball; if the ball ends up outside the court without hitting the ground, it counts as six runs, otherwise it's four.
Once a batsman is out, the team replaces him with another until there are no more and the game ends. This is essentially how the game is played, though the rules are much longer and complicated that that!
Cricket a World Wide Game
Though England dominated cricket in the early days of the sport, Cricet now enjoys world wide popularity and others are infringing on the domination of the founders of the game. England did win the Commonwealth Bank Series in 2007, and also managed the Natwest series (held in England) in the June-July of 2005, 2004 and 2003 (they win it mostly every time it takes place). The most successful nations remain India, Pakistan, Australia and the West Indies, though perhaps that will change as new rules and regulations are put in place in the game.
But it is all about watching a good game of cricket, and may the best team win, otherwise it's just not cricket, is it?
Some Important Events in Cricket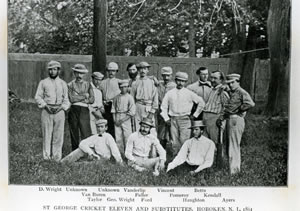 1844, September 24th-25th: The first cricket match took place at the St George's Cricket Club, Bloomingdale Park in New York.Canada won by 23 runs.
1877, March 15th: The First Test cricket match was played in Melbourne when eleven Australians (in actuality players from Melbourne and Sydney) defeated an English XI in a four-day match.
1971, January 5th:The first ODI (One Day International) was played at Melbourne Australia, between Australia and England. This match was won by Australia
1975, June 7th to 21st:First Cricket World Cup was played in England. This event has been held every four years since.
2005, February 17th:The first Twenty20 International took place when Australia defeated New Zealand by 44 runs at Eden Park in Auckland
2007, May 18th:Longest shot in Cricket history was played by Sahid Afridi of Pakistan approx 160 Meters (173 yards) SIX at Melbourne 2007
2007, September 11th to 24th:The inaugural event, the 2007 ICC World Twenty20, was staged in South Africa. The tournament was won by India, who became the first World T20 Champions after defeating Pakistan by 5 runs in the final at Johannesburg
Some Records and Results
Highest Career Runs:
The record for the highest career runs is held by the player considered to be the greatest batsman of all time, Sachin Tendulkar who has a total of 18,374 runs to his name, with 451 innings. Other notable batsmen are Ricky Ponting, playing for Australia, and Jacques Kallis for South Africa.
Highest Individual Runs Score: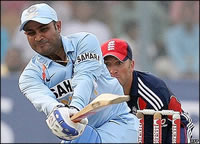 The highest individual score sees two Indian players take first and second place respectively, with Virender Sehwag totalling 219 runs in all, and again Sachin Tendulkar with 200 runs. Zimbabwe's Charles Coventry currently holds the third-place spot with a total of 194 runs.
Highest Individual scorer
Test – Brian Charles Lara – West Indies 400 not out during his 778 minute 582 balls inning with 43 fours and 4 sixes against England at St John's (Antigua) on 10 Apr 2004
ODI – Virendra Sehvag – India 219 in 149 ball inning with 25 fours & 7 sixes at Strike rate of 146.97 against West Indies at Indore on 8 Dec 2011
T20 – Shared by Two batsman RE Levi of South Africa 117 not out in 51 Balls with 5 fours & 13 sixes with strike rate of 229.41 against New Zealand at Hamilton on 19 Feb 2012 CH Gayle of West Indies 117 in 57 balls with 7 fours & 10 sixes with strike rate of 205.26 against South Africa at Johannesburg 11 Sep 2007
Highest Career Average:
Hashim Amla currently has the highest career average of all time, but is still an active player. With a 56.49 average and a total of 2881 runs, Amla is ranked as the world's top batsman in One Day Internationals.
Other players with a hefty career average include Michael Bevan, of Australia, Mahendra Singh Dhoni of India and Ab De Villers for South Africa.
Highest Wicket Taker in Tests
M Muralitharan of sri Lanka (1992-2010) 133 Test Matches, 230 innings 44039 Balls 18180 runs 800 wickets with Best Bowling in Inning 9 wickets/51 runs and best bowling for the match 16 wickets/220 runs at 22.72 runs per wicket at economy rate of 2.47 runs per over with strike rate of 55.0 balls per wicket he tool 5 or more wickets in Inning 67 times and 10 or more wickets in match 22 times.
Fastest Ball Delivered in Criket
Retired Pakistan player Shoaib Akhtar also known as Rawalpindi Express delivered the fastest ball in the history of one day cricket or test cricket since they started measuring speed.
Shoaib bowled to Nick Knite of England in a World Cup match in South Africa during 2003. The delivery was clocked at 161.3 km/h or 100.4 mph. He bowled again with the same speed in the next over to the same batsman. Note: Speed measuring is not officially recognized by the ICC, the ruling body of cricket. It is generally provided by private companies.