More Recent Days
The Twentieth century saw the foundation of an official body for cricket, the Imperial Cricket Conference created in 1909, which had England, South Africa and Australia as initial members. India, Pakistan and the West Indies were introduced sometimes later, before the second Great War, and many Englishmen probably wish they weren't; the history of Indian cricket begins here, and these countries have dominated the cricket scene for many years, to the hair-pulling and sore eyes of many English fans.
Officially, then, tests took place in the sport, with each of these countries competing against each other and nations like Sri Lanka and Bangladesh becoming test nations a bit later, giving evidence of how popular the sport was becoming all over the globe. The organisation which started it all, the ICC, eventually became the International Cricket Council we know today.
Other notable events which took place in the latter half of the century were the suspension of South Africa from the sport (due to apartheid), the use of technology for the sport and some changes in the laws for overs. The start of shorter matches in cricket eventually proved successful, as test matches could end earlier for the benefit of travelling fans or generally busier spectators.
If you are interested in a comprehensive history of the cricket ball, or a history of the cricket bat you might want to consider the BBC's series "A history of the World." Check this link for a low-down on cricket bats of the past and present.
The Cricket World Cup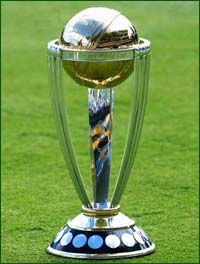 The first three Cricket World Cup were hosted by England and sponsored by the insurance and financial services firm, Prudential. The first three tournaments in 1975, 1979 and 1983 were actually called the "Prudential Cup" because of their important contribution.
The matches consisted of 60 overs per team during the light of day. Each player wore the traditional white uniform and the balls used were traditional red. Thees first three tournaments consisted of eight teams and 15 to 27 matches.
The field of teams represented at the World Cup peaked in 2007 with 16 teams with the 2011 Cup fielding 14.