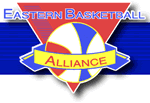 Eastern Basketball Alliance (EBA)
Homepage: http://www.easternbasketballalliance.com/
History:
The Eastern Basketball Alliance (EBA) traces its beginnings in 1946, with the aim of providing high quality basketball among professional players within the middle eastern states who were not able to play in the NBA. It was only in the fall of 1997 when the EBA was formally organized and incorporated, with 10 franchise teams from five states. In its 1998 season, EBA showcased teams from Lancaster, PA; York, PA; Reading, PA; Harrisburg, PA; Wilkes-Barre, PA; Mercer County, NJ; Springfield, MA; Brooklyn, NY; Hudson Valley, NY; and New Haven, CT. This season jump started strings of positive developments for EBA, such as the appointment of its first commissioner and the establishment of the EBA office.
In 1999, EBA and ABA teams collaborated to form the United Basketball Alliance (UBA). Four EBA and two EBA teams participated during the first season, which carried on in 2000 and 2001 with two more teams participating. Today, EBA is known for the strength of its franchises and high caliber plays. EBA serves as training ground for many promising players from Division I, II, and III collegiate programs aiming to make it in the Over Seas league and in the NBA.