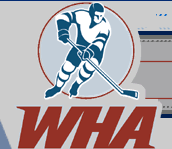 World Hockey Association
Homepage:
http://www.whahockey.com/whamain.html
Overview:
The World Hockey Association was created in October of 1972 by Dennis Murphy and Gary Davidson with the intention of changing professional hockey forever.
Unorthodox methods are the trademark of the WHA. The WHA claims to be the first leaque to introduce coloured pucks. A variety of different colored pucks were tried and each was retired because of performance or durability difficulties.
The colored pucks may have failed but the effort did not end the WHL's attempts at creativity. One of its teams, The New York Golden Blades, wore skates painted white with gold skate blades. Another team had jungle green sweaters with bright gold trim.
In a move that proceeded the NHL's "streaking" puck by 20 years, the WHA added electronic chips into the pucks so they would show up and streak on TV in the 1970s.
The WHA has no rules or regulations on stick curvatures. The banana blade reigned supreme in the WHA and as a result so did high scoring games.
Teams in the WHA play for the Avco Cup.