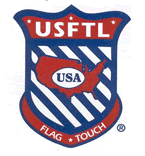 United States Flag & Touch Football League (USFTL)
Homepage: http://www.usftl.com/
Rules and regulations: http://www.usftl.com/resources/rulebooks/
Overview:
A popular sport across the US and Europe, flag football is a variation of American football – instead of tackling players to the ground, the team on the defensive must grab a flag from the player that has the ball and take it off for the play to stop.
In the US, a group of local and state directors oversee the operations of the sport's governing body, the United States Flag and Touch Football League (USFTL). All teams intending to join the league must register through the local and state directors.
USFTL administers a number of national invitational tournaments, as well as state, sectional, and regional tournaments to its members. USFTL also supports their members to play for world championship competitions.