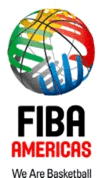 FIBA Americas
Homepage: http://www.fibaamerica.com/
Rules and regulations: http://www.fibaamericas.com/files/informes
/7D07C27AED4C425E909C794FD888B2B9.pdf
History:
Founded on October 11, 1975, FIBA Americas, otherwise known as the Pan-American Basketball Confederation, is a non-profit organization representing the International Basketball Federation (FIBA) in the American continent. FIBA Americas has jurisdiction from Canada to Argentina, specifically divided into three zones: the North Area (Canada and the US), Central America and the Caribbean zone, and the South American zone. Primarily, FIBA Americas "controls, establishes the by-laws and regulations, technically leads and guides the basketball competitions, for men and women, between national selections or clubs that at Pan-American levels get organized and where there are countries or teams participating from more than one zone." FIBA Americas likewise organizes pre-Olympic tournaments, directs Pan-American competitions, and designs course clinics at the national level.