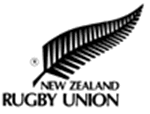 New Zealand Rugby Union
Homepage: http://www.allblacks.com/
History:
While there were claims that rugby has been played in New Zealand well before the formation of the nation's Rugby Union, it was only in May 1870 when formal records stated that a game between Nelson College and Nelson football club was under rugby rules.
Charles John Monro, son of Sir David Monro, has been credited for bringing the game of rugby to New Zealand after having completed his education in England. By 1871, organized games are played in Wellington, spreading on to Wanganui and Auckland in succeeding years. By 1875, rugby has become popular throughout the colony, with games played among Wellington, Dunedin, Christchurch, Nelson and Taranaki teams.
While minor unions were formed in 1879, it was only in 1892 when the New Zealand Rugby Union was founded to oversee the game at the national level. A year after its foundation, the New Zealand Rugby Union started sending teams to compete abroad. As early as 1905, New Zealand's "All Blacks" were creating waves in the rugby scenes in Britain and in Europe. All Blacks went on to dominate the international rugby arena from then on. Today, New Zealand rugby is ranked number one in the world by the International Rugby Board.