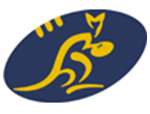 Australian Rugby Union
Homepage: http://www.rugby.com.au/
History:
Before a rugby national governing body was in place, there was the New South Wales Rugby Union which administered all incoming and outgoing tours and for representing Australia on the International Rugby Board. In 1947, a meeting among the state unions in Australia concluded with the idea that the future of Rugby Union in the country would be better served by one national governing body. Thus, in November 25, 1949, 11 delegates from New South Wales, Queensland, South Australia, Western Australia, Tasmania, and Victoria gathered to form the Australian Rugby Football Union. It was only in 1972 when the Australian Capital Territory became a member, followed by the Northern Territory in 1978, as association member. In 1985, the governing board decided to incorporate the Union as a company; and in 1997, its name was changed to what it is known today, The Australian Rugby Union Ltd.