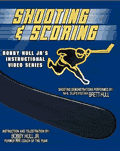 Say the name " Hull" and anyone familiar with hockey will immediately think "Goal"! The Hull family has produced a lineage of hockey players that have mastered the
most important skill in the game… lighting the lamp on top of the goal.
Bobby Hull (the Golden Jet) took his
personal ice hockey shooting drill practice and converted it to a professional career that racked up 903 goals and 895 assists for a staggering total of 1,808 points. His son Brett also had incredible professional results that totaled 741 goals, 649 assists and 1,390 points. Between the two of them, they are the only father son duo to win the Most Valuable Player trophy of the NHL, the Hart Memorial Trophy.
Now, son Bobby Hull Jr., brings the secrets of the Hull families scoring prowess into your living room via the DVD "Bobby Hull, Shooting and Scoring".
This DVD is not a boring hash of drills upon skills upon practice. The video strikes a terrific balance of NHL highlights showing the Hull's themselves (including others) and a look at the fundamental ice hockey drill practice that makes a champion.
Whether you play ice hockey, roller hockey or field hockey, the concepts, hockey drills and practice instruction shown in the DVD can apply to the game you love. The tape provides excellent insight on the proper mechanics and techniques necessary to become a dead eye shooter. He also covers 'where' to shoot from on the ice, sharing the highest percentage locations from where to get the puck in the net.